Client engagement
Help your firm stand out by providing superior client value
Deliver state-of-the-art client experience
From initial touchpoints to service delivery, HighQ will help you create secure extranets, smart workspaces, personalised client portals, and online services that provide efficiency, transparency, and consistency.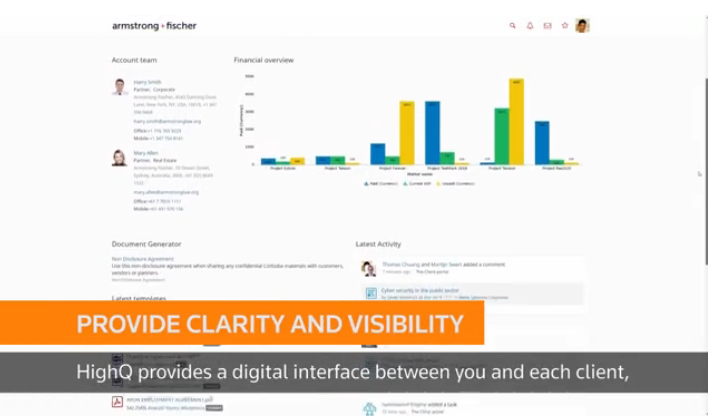 01:05
Build the ultimate extranet for clients, delivering a personalised workspace where you can easily and securely share documents, collaborate on matters, deliver effective project management and provide value-added products and services.
Provide unique products, services, and tools
Offer clients 24-7 access to expert content, systems, and tools that you can quickly create, publish, and manage. HighQ gives you everything from regulatory guides and comparison toolkits to real-time financial reports and self-service document assembly.
Offer complete clarity, inside and out
HighQ provides a digital interface between you and each client, giving everyone a transparent, unified picture of exactly where things stand. Matter status, billing details, archived projects, files and contracts are all securely managed in one single source of truth.
Simplify the instruction and intake process
Streamline instruction and intake directly through your extranets using online forms, workflow and process automation. Provide consistency of instructions, preventing delays in matter progress, and leveraging the data for dashboards and reporting.
Tools to boost client engagement
Ready to take the next step?
See how your firm can build client engagement with HighQ